Message from our Chief Executive Officer – Nicolas Moreau
I'm proud to say we have achieved another strong set of quarterly results, despite a challenging macro and geo-political backdrop, demonstrating the momentum and resilience that we have built in the business. Our assets under management stand at USD618bn as of 31 March, with USD4.2bn in net new client money YTD.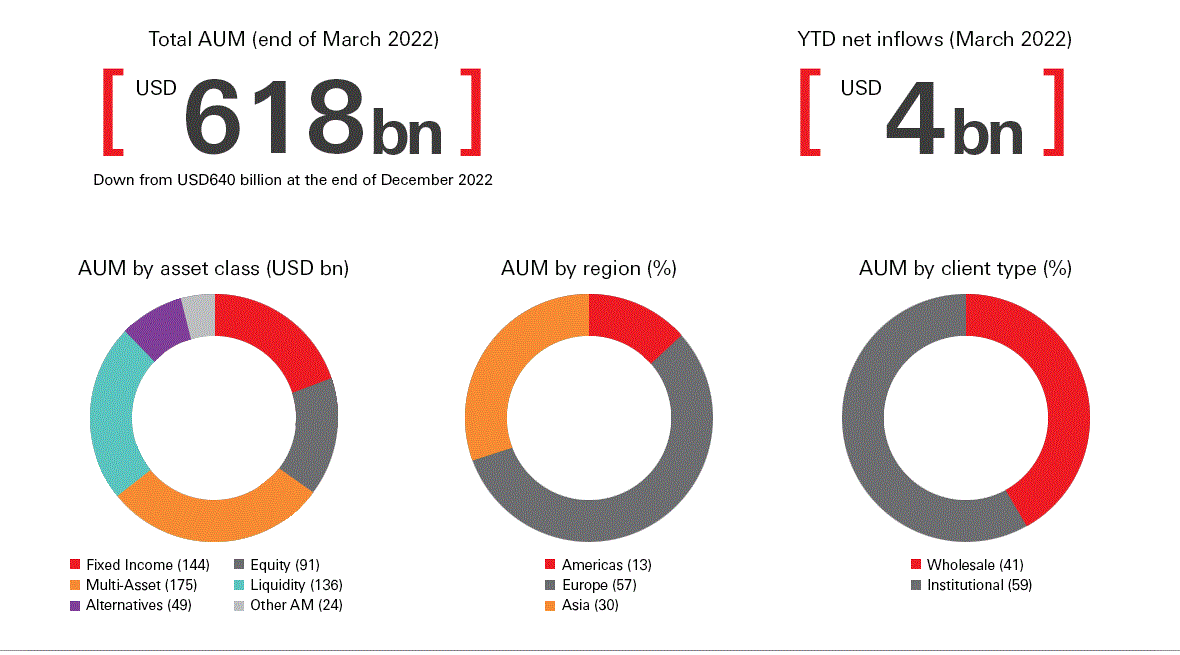 Data as of March 2022

Key highlights to date:
Expanded our global client base and Asian footprint by receiving approval from the Competition Commission of India (CCI) to fully acquire L&T Investment Management Limited (LTIM), the asset management subsidiary of Larsen & Toubro (L&T Group), one of India's largest conglomerates.
Continued to build leadership in sustainable investments by evolving our existing book and launched new funds and solution.
Expanded our Alternatives capability with a new Listed Infrastructure Equity team.
In addition, Hang Seng Investment Management won a marquee USD13bn AuM index mandate in Hong Kong that will fund in Q4.
Further cemented our ambition to energise for growth and inclusion by launching a training programme to help us practically implement inclusion across the business.
Continued our work to deliver investment excellence. Across a 12-month period to the end of March 2022, 67% of our key funds outperformed their respective benchmarks (on an asset weighted basis).
Continued to create long-term partnerships, including our existing joint venture with Jintrust. They launched a new mixed fund earlier this year and raised more than USD800m. This was the second largest new fund launch in the Chinese market in January and the largest in Jintrust's history.
Looking ahead
We are committed to continue transforming our business to provide market leading investment solutions, aligned to the sustainability transition and growth in Emerging Markets and Asia.
Continuing our ambition of building a culture that fosters diversity, equity and inclusion, innovation, commerciality, and intrapreneurship.
Thank you for choosing HSBC Asset Management,
Nicolas Moreau
---
This page is prepared for general information purposes only and does not have any regard to the specific investment objectives, financial situation and the particular needs of any specific person who may receive it. Any views and opinions expressed are subject to change without notice. This document does not constitute an offering document and should not be construed as a recommendation, an offer to sell or the solicitation of an offer to purchase or subscribe to any investment. References to 'we', 'us' and 'our' are references to HSBC Asset Management.